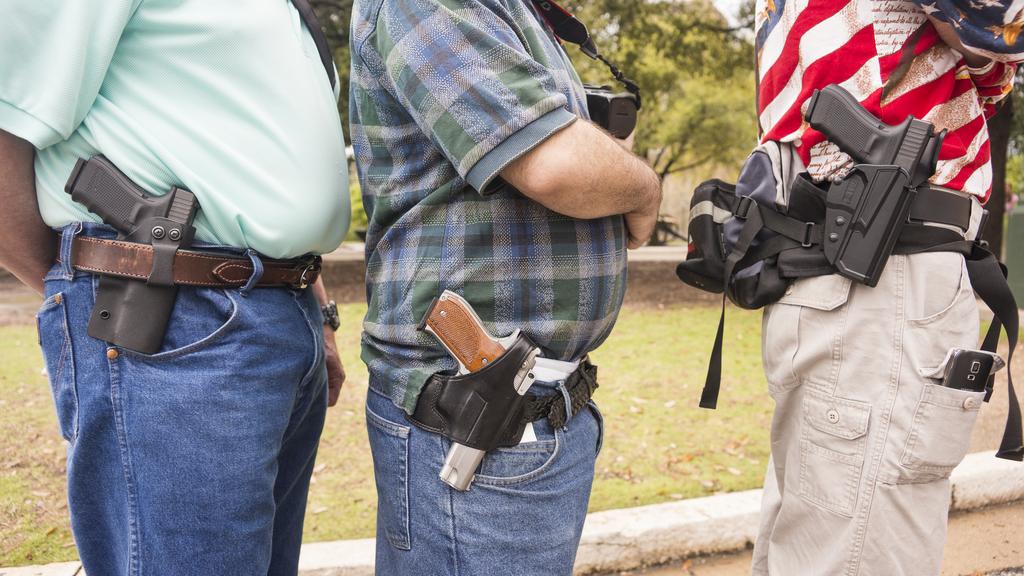 In US v. Willy  (July 26, 2022), the Ninth Circuit Court of Appeals held that a defendant's charges for Unlawful Display of a Weapon were not supported by Probable Cause.
BACKGROUND FACTS
Reporting Party #1
On May 12. 2019, the Yakima County's Sheriff's Office received a call from a witness ("Reporting Party 1"). The witness stated that a man had pulled up outside of his home in a vehicle and displayed a firearm. Dispatch relayed this information to Deputy Thaxton, who interviewed Reporting Party 1 at his residence. Reporting Party 1 told Deputy Thaxton that a white male in a green truck pulled up on the street in front of his house. The man began talking about being abducted and kept somewhere in the area. The man said he was trying to find the place where he was kept. During the conversation, the man pulled out a semiautomatic pistol, racked the slide, and then put it down.
Reporting Party 1 expressed concern about the man's mental state. He provided Deputy Thaxton with the truck's license plate number. The vehicle came back as registered to Mr.  Willy. Thaxton showed Reporting Party 1 Willy's Department of Licensing photo, and he identified Willy as the man with whom he had spoken. Reporting Party 1 said that Willy made no threats to him, nor had Willy pointed the pistol at him at any time.
Reporting Party #2
About ten minutes after leaving Reporting Party 1's residence, Deputy Thaxton responded to another report from dispatch. The second call had come from Reporting Party 2, who lived about three miles from the previous caller. Deputy Thaxton spoke to the second witness over the phone because Reporting Party 2 had already left her residence. Reporting Party 2 stated that a man with a name like "Willis" pulled up to her gate in a green truck when she was leaving her house. "Willis" told her that he had been kidnapped and held in a camouflaged trailer or van in the area and that he was trying to find it. While they were talking, the man told her he was armed and then displayed a pistol and put it away. Reporting Party 2 told the man she did not know the place he was looking for, and he drove away. Reporting Party 2 said that she was not was not directly threatened, nor was Willy argumentative or hostile.
Deputy Thaxton located the green truck pulling into a gas station. Once he confirmed the license plate matched the one given to him by Reporting Party 1, Deputy Thaxton turned on his emergency lights and conducted a "high-risk stop." With his firearm drawn, Deputy Thaxton ordered Willy out of the vehicle. Willy complied with all of Deputy Thaxton's orders. While making Willy turn around, Deputy Thaxton saw a pistol holstered on his hip. Deputy Thaxton removed the gun, put Willy in handcuffs, and escorted him to the back seat of the police vehicle.
After his arrest, a search of Willy's vehicle and person recovered illegal firearms and a modified CO2 cartridge. Willy was charged with making and possessing a destructive device in violation of the National Firearms Act, 26 U.S.C. § 5861. He was also charged with Unlawful Display of a Weapon under Washington statute.
Willy moved to suppress the evidence. The lower federal district court granted the motion to suppress. It found that although Deputy Thaxton had reasonable suspicion to conduct an investigatory stop, he lacked probable cause to make the arrest. The evidence was "tainted by the illegality of the arrest." The Government filed a timely notice of appeal to the Ninth Circuit.
COURT'S ANALYSIS & CONCLUSIONS
First, the Ninth Circuit analyzed the scope of Washington's Unlawful Display of a Weapon statute. It began with a discussion of how the Fourth Amendment protects the right of the people to be secure in their persons, houses, papers, and effects against unreasonable searches and seizures.
"Washington is an open carry state. That means that it is presumptively legal to carry a firearm openly." ~Ninth Circuit Court of Appeals
"The bare fact that Willy displayed a weapon would not be sufficient to stop Willy, because there is no evidence that he was carrying a concealed weapon," said the Ninth Circuit. Moreover, the reporting parties' statements that Willy was carrying a gun "created at most a very weak inference that he was unlawfully carrying the gun concealed without a license, and certainly not enough to alone support a Terry stop."
Additionally, the Ninth Circuit emphasized that Thaxton acquired no additional reasons for arresting Willy until after he stopped him. When Thaxton ordered Willy to leave his truck and turn around slowly, Willy was openly carrying his pistol, in a holster on his hip. The Ninth Circuit pointed out that Washington courts have refused to enforce the statute when the threats are not sufficiently direct or imminent.
Deputy Thaxton's suspicion that Willy had violated § 9.41.270 arose not from his own observations but from the accounts of two reporting parties.
"The strongest fact for the government is that Willy racked the slide of his gun in the presence of Reporting Party 1. In context, however, that fact does not demonstrate that Willy was acting in manner that warrants alarm." ~Ninth Circuit Court of Appeals."
With that, the Ninth Circuit next addressed whether the C02 cartridge found in Willy's car – and his statements to police – should be suppressed as evidence supporting the federal charges. The Ninth Circuit began by saying that under the "fruits of the poisonous tree" doctrine, evidence seized subsequent to a violation of the Fourth Amendment is tainted by the illegality and subject to exclusion, unless it has been sufficiently "purged of the primary taint." Wong Sun v. United States. Ultimately, the Ninth Circuit suppressed that evidence as "fruits of the poisonous tree."
The Ninth Circuit concluded by affirming the lower federal court's order granting the defendant's motion to suppress.
My opinion? Good decision. The Ninth Circuit gave an accurate assessment of Washington Law surrounding this issue and made the right decision. Washington is indeed an "Open Carry" state. This fact alone challenges many people's allegations that someone is unlawfully displaying a weapon. Also , the probabale cause alleged in this case was fart too attenuated to be reliable.
Please contact my office if you have Firearms Offense involving Search and Seizure issues. Hiring an effective and competent defense attorney is the first and best step toward justice.