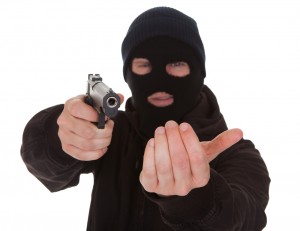 Robbery is one of the most seriously prosecuted crimes in Washington. Under Washington law, it is both a crime of violence and a theft. These crimes threaten public safety. They are also "strike offenses" under Washington's 3-strikes laws.
A person is guilty of Robbery in the First Degree if, in the commission of a robbery or of immediate flight therefrom, he or she: (1) is armed with a deadly weapon; or (2) displays what appears to be a firearm or other deadly weapon; or (3) Inflicts bodily injury; or (4) commits a robbery within and against a financial institution. Robbery in the first degree is a Class A Felony.
To convict a person of the crime of robbery in the second degree, the prosecution must prove beyond a reasonable doubt each of the following elements: (1) that the defendant unlawfully took personal property from the person or in the presence of another; (2) that the defendant intended to commit theft of the property; (3) that the taking was against that person's will by the defendant's use or threatened use of immediate force, violence, or fear of injury to that person, to that person's property, or to the person or property of another; and (4) that force or fear was used by the defendant to obtain or retain possession of the property, to prevent or overcome resistance to the taking, or to prevent knowledge of the taking.
If you or someone you care about faces Robbery charges in Skagit County or Whatcom County, call attorney Alexander Ransom today for a free, no-pressure case evaluation.