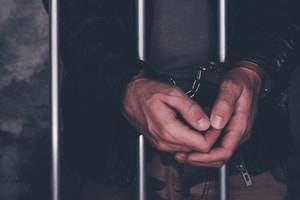 In Manuel v. Joliet, the U.S. Supreme Court held that a person's pretrial detention for alleged crimes can violate the Fourth Amendment if the judge's determination of probable cause was based solely on fabricated evidence.
BACKGROUND FACTS
During a traffic stop, police officers in Joliet, Illinois, searched the defendant Elijah Manuel and found a vitamin bottle containing pills. Suspecting the pills to be illegal drugs, the officers conducted a field test, which came back negative for any controlled substance. Still, they arrested Manuel and took him to the police station.
There, an evidence technician tested the pills and got the same negative result, but claimed in his report that one of the pills tested "positive for the probable presence of ecstasy." An arresting officer also reported that, based on his "training and experience," he "knew the pills to be ecstasy." On the basis of those false statements, another officer filed a sworn complaint charging Manuel with unlawful possession of a controlled substance.
Pretrial Detention
Relying exclusively on that complaint, a county court judge found probable cause to detain Manuel pending trial. While Manuel was in jail, the Illinois police laboratory tested the seized pills and reported that they contained no controlled substances. But Manuel remained in custody, spending a total of 48 days in pretrial detention.
For those who don't know, pretrial detention refers to detaining of an accused person in a criminal case before the trial has taken place, either because of a failure to post bail or due to denial of release under a pre-trial detention statute.
Civil Rights Lawsuit
At any rate, more than two years after his arrest, but less than two years after his criminal case was dismissed, Manuel filed a civil rights lawsuit pursuant to 42 U. S. C. §1983 against Joliet and several of its police officers (collectively, the City), alleging that his arrest and detention violated his Fourth Amendment rights.
The Federal District Court dismissed Manuel's suit, holding, (1) that the applicable two-year statute of limitations barred his unlawful arrest claim, and, (2) that under binding legal precedent, pretrial detention following the start of legal process  could not give rise to a Fourth Amendment claim. Manuel appealed the dismissal of his unlawful detention claim. however, the Seventh Circuit Court of Appeals affirmed the ruling. Manuel appealed to the U.S. Supreme Court.
ANALYSIS & CONCLUSION
The U.S. Supreme Court decided that Mr. Manuel may indeed challenge his pretrial detention on Fourth Amendment grounds even though he was in custody. It explained that the Fourth Amendment prohibits government officials from detaining a person without probable cause. Furthermore, where legal process has gone forward, but has done nothing to satisfy the probable-cause requirement, it cannot extinguish a detainee's Fourth Amendment claim.
"That was the case here," said the Court. "Because the judge's determination of probable cause was based solely on fabricated evidence, it did not expunge Manuel's Fourth Amendment claim." Consequently, Mr. Manuel proved a valid a Fourth Amendment claim when he sought relief for his arrest and pretrial detention.
Furthermore, the Court reasoned that the Seventh Circuit Court of Appeals should have determined the claim's accrual date, unless it finds that the City has previously waived its timeliness argument. In doing so, the court should look to the common law of torts for guidance while also closely attending to the values and purposes of the constitutional right at issue.
With that, the U.S. Supreme Court reversed and remanded.
My opinion? Good decision. Pretrial release is a huge issue in criminal law.  In Washington, both CrR 3.2 and CrRLJ 3.2.1 govern the release of people accused of crimes. The purposes of the pretrial release decision include providing due process to those accused of crime, maintaining the integrity of the judicial process by securing defendants for trial, and protecting victims, witnesses and the community from threat, danger or interference.
The judge or judicial officer decides whether to release a defendant on personal recognizance or unsecured appearance bond, release a defendant on a condition or combination of conditions, temporarily detain a defendant, or detain a defendant according to procedures outlined in these Standards.
Ultimately, the law favors the release of defendants pending adjudication of charges. Deprivation of liberty pending trial is harsh and oppressive, subjects defendants to economic and psychological hardship, interferes with their ability to defend themselves, and, in many instances, deprives their families of support.
Here, Mr. Manuel was held in jail for 48 days when police lacked probable cause on any charges. That's awful. Fortunately justice was served when his case was dismissed and that the U.S. Supreme Court upheld his lawsuit.
For more information on getting released from jail, please read my Legal Guide titled, Making Bail. And please contact my office for a free consultation if you, a friend or family member find themselves in jail.