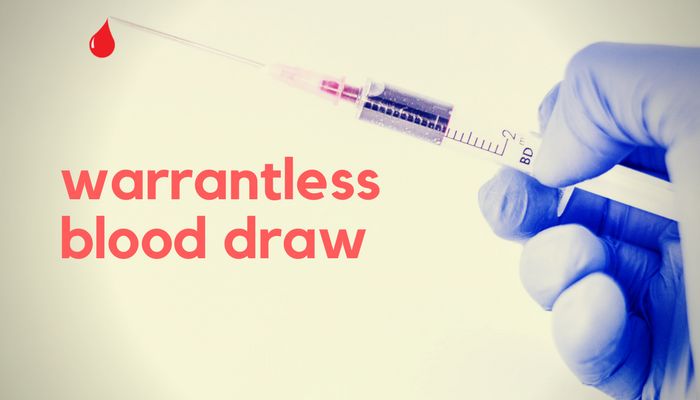 In State v. Anderson, the WA Court of Appeals held that exigent circumstances supported a warrantless blood draw at the scene from a driver arrested for vehicular homicide and vehicular assault.
BACKGROUND FACTS
In October 2014, Anderson was living with his high school friend, Mr. Powers. Powers would occasionally let Anderson drive his car. The evening of October 24, 2014, Anderson drank at home and then went to a bar to watch a hockey game. About 12:30 am., Powers heard Anderson's voice and then heard his car start. Anderson took Powers's car without his permission.
Around 2:00 a.m., Sergeant Jamie Douglas responded to a multivictim car crash in Auburn. At the scene, Douglas saw an "obliterated" car off the roadway, a path of debris, an uprooted tree with an 18-inch base, uprooted utility boxes, and guy wires that had been supporting a telephone pole torn out of the ground. The speed limit on the road was 35 m.p.h. but, based on the scene, Douglas estimated the car was traveling close to 100 mph.
Deputy Jace Hoch had observed the car earlier traveling at about 90 mph. but could not catch it. He asked dispatch to let the Auburn Police Department know that the car was heading toward Auburn. Four of the five passengers in the car died.
Multiple individuals who responded to the scene smelled alcohol on Anderson. Anderson told paramedic Paul Nordenger that he had had "a few drinks." Nordenger drew Anderson's blood at the scene without a warrant. Test results showed that his blood alcohol content (BAC) was 0.19 grams of alcohol per 100 milliliters of blood and that he had 2.0 nanograms of THC (tetrahydrocannabinol) per milliliter. Anderson was taken to Harborview Medical Center. Toxicologist Asa Louis testified that a second blood draw taken there showed a BAC of 0.18.
The State charged Anderson with four counts of vehicular homicide, one count of vehicular assault, one count of reckless driving, and an a sentencing aggravator for injury to the victim substantially exceeding the level of bodily harm necessary to satisfy the elements of vehicular assault. A jury convicted Anderson as charged.
Among other issues, Anderson claimed that exigent circumstances did not exist for officers to conduct a warrantless blood draw at the scene.
COURT'S ANALYSIS & CONCLUSIONS
The Court of Appeals reasoned that as a general rule, warrantless searches and seizures are per se unreasonable, in violation of the Fourth Amendment and article I, section 7 of the Washington State Constitution. A blood test is a search and seizure. A recognized exception to the warrant requirement allows a warrantless search or seizure when exigent circumstances exist.
"A court examines the totality of the circumstances to determine whether they exist," said the Court. "They exist where the delay necessary to obtain a warrant is not practical because the delay would permit the destruction of evidence." Furthermore, the natural dissipation of alcohol in the blood may support a finding of exigency in a specific case, for example, when delay results from the warrant application process."
Next, the Court of Appeals' legal analysis focused on prior cases U.S. Supreme Court and WA Supreme Court cases. It observed that Missouri v. McNeely upheld the proposition that the presence of other officers weighs against the conclusion that exigent circumstances existed. Also, in State v. Inman, the WA Court of Appeals held that exigent circumstances for a blood draw existed when Mr.  Inman crashed his motorcycle on a rural road, injuring him and his passenger. In that case, Inman had facial trauma; including bleeding and abrasions on the face, and a deformed helmet. A bystander told police that Inman had been unconscious for five minutes before regaining consciousness. A paramedic administered emergency treatment. A responding officer spoke with lnman and smelled intoxicants on him. Finally, Inman admitted that he had been drinking before driving his motorcycle.
"The circumstances here are more like those in Inman," said the Court of Appeals. "Similar to Inman, the trial court found that Anderson was in a high-impact collision resulting in serious injuries.  Here, Mr. Anderson sustained serious injuries that required treatment, multiple responders smelled alcohol on him, he told an officer at the scene that he had been drinking before driving, a paramedic told the first responding officer that the medics would be giving the driver medication and intubating him, the first responding officer knew from his experience in law enforcement and as a paramedic that this emergency treatment could impair the integrity of the blood sample, and that it would take 40 to 90 minutes to obtain a warrant for a blood draw.
"A warrant was not practical because the delay caused by obtaining a warrant would result in the destruction of evidence or postpone Anderson's receipt of necessary medical care," reasoned the Court of Appeals. "The totality of the circumstances establish that exigent circumstances existed to justify a warrantless blood draw."
Please contact my office of you, a friend or family member are charged with an alcohol-related driving charge and police execute a warrantless blood draw. Retaining an experienced DUI attorney who is experienced with the legalities of blood draws is the first and best step toward obtaining justice.