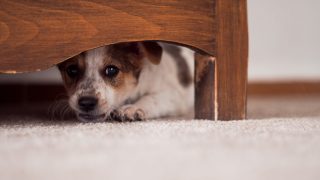 In State v. Abdi-Issa, the WA Supreme Court held that Animal Cruelty may be designated
as a crime of Domestic Violence.
BACKGROUND FACTS
Ms. Fairbanks began dating Mr. Abdi-Issa shortly after she moved to Seattle with her dog, Mona. Mona was a small Chihuahua and Dachshund mix. Fairbanks testified she was close to Mona. Abdi-Issa, however, had a history of disliking Mona. Abdi-Issa was abusive toward Fairbanks and Mona, even threatening to kill them both.
One evening, while they were out in Seattle's International District, Abdi-Issa insisted Fairbanks let him take Mona on a walk. Fairbanks objected, but Abdi-Issa ignored her and left with Mona. Not long after he left, Abdi-Issa called Fairbanks claiming that Mona had gotten out of her harness and that he could not find her. Fairbanks did not believe him, as Mona had never gotten out of her harness before. Abdi-Issa refused to tell her more. Fairbanks began to panic after she heard Mona yelping over the phone.
Around that same time, bystanders heard a sound of great distress. One of the bystanders was Ms. Ludin. She followed the sound and saw Abdi-Issa beating and making "brutal stabbing" motions toward Mona. She also saw Abdi-Issa kick Mona so hard that she went up into the air and into the bushes. Each time Mona was struck she made a screeching, screaming, pained, sound that was at last followed by silence.
Seattle Police Officers responded to the 911 call. Mona was found, still alive, underneath a bush. Officers transported Mona to an emergency veterinary clinic. Mona arrived at the clinic nearly comatose. She had severe swelling in her brain, bruising on her chest, and a wound to the top of her head. By the time Fairbanks arrived at the veterinary clinic Mona had died. A necropsy found that Mona had died from multiple instances of blunt force trauma.
The State charged Abdi-Issa with First Degree Animal Cruelty and sought a domestic violence designation. The State also charged two sentencing aggravators: (1) that the crime had a destructive and foreseeable impact on persons other than the victim, and (2) that Abdi-Issa's conduct during the crime of domestic violence manifested deliberate cruelty or intimidation of the victim. Abdi-Issa unsuccessfully moved to dismiss the domestic violence designation and aggravators multiple times.
The jury found Abdi-Issa guilty of animal cruelty. The jury also found that Abdi-Issa and Fairbanks were in a domestic relationship prior to the crime. This allowed for a domestic violence designation.
The court imposed the maximum 12-month sentence for the crime of animal cruelty, and an additional 6 months for the aggravator, sentencing Abdi-Issa to an 18-month prison sentence. Based on the domestic violence designation, the court also imposed a no-contact order prohibiting Abdi-Issa from having contact with Fairbanks.
However,  the Court of Appeals vacated the domestic violence designation, the no-contact order, and the sentencing aggravator. The State appealed. The WA Supreme Court granted review and addressed the State's appeal.
COURT'S ANALYSIS AND CONCLUSIONS
1. Animal Cruelty as a Crime of Domestic Violence
First, the WA Supreme Court decided that Animal Cruelty may be designated a crime of domestic violence. At first, the Court said Abdi-Issa correctly argued that Animal Cruelty is not a designated DV crime.
"But the list of crimes is explicitly nonexclusive," wrote Justice Gonzalez. The court further reasoned that many of the designated DV crimes, including Burglary and Malicious Mischief, are against a victim's property.
"Pets, as a matter of law, are considered personal property. Here, Fairbanks was directly harmed as a result of Abdi-Issa's violent killing of her beloved pet and companion. She is plainly a victim of Abdi-Issa's crime." ~Justice Steven C. Gonzalez, WA Supreme Court
2. Sentencing Aggravator—Impact on Others
Next, the Court addressed whether the "Impact on Others" sentencing aggravator was appropriate. Here, defendants face increased consequences if the offense involves a "destructive and foreseeable impact on persons other than the victim." Justice Gonzalez emphasized how Ms. Ludin, the bystander who witnessed the attack on Mona, was deeply affected by the incident.
"Ludin made the 911 call and was very distressed when the police arrived. Ludin testified that she had a severe panic attack that night, sitting in her car for a long time before she was calm enough to drive herself home. She continued to have flashbacks, had trouble sleeping, and would go into a state of panic whenever she heard a 'high pitched, squeaky sound.' Abdi-Issa's act had a destructive and foreseeable impact on Ludin.

Abdi-Issa's actions impacted someone other than Fairbanks. This emotional and psychological trauma will be something that Ludin and Fairbanks continue to carry. The sentencing aggravator was properly applied in this case." ~Justice Steven C. Gonzalez, WA Supreme Court
Consequently, the Court held that Animal Cruelty can be designated as a DV crime and that the sentencing aggravators were appropriate.
Please contact my office if you, a friend or family member are charged with Domestic Violence or any other crime. Hiring an effective and competent defense attorney is the first and best step toward justice.