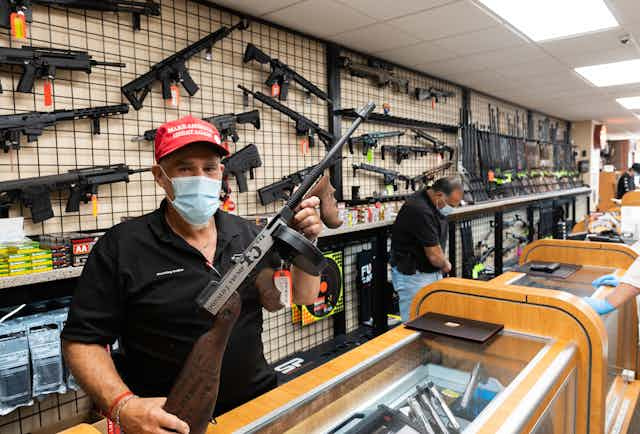 Journalist Martin Kaste reports in NPR that shootings spiked during the Pandemic, and this appears to be the "new normal."
Hopes for a rapid decline in the pandemic murder spike are fading. Although national statistics for 2022 aren't yet available, an informal year-to-date tally of murders in major cities is. The total count in those cities has dipped slightly lower than last year, but it's still well above pre-pandemic levels. And in 40% of the cities listed, homicides are trending higher.
Some of the worst trouble spots are cities such as Philadelphia and Baltimore, where year-to-date homicides are rivaling the high tallies of 2020 and 2021. In Portland, Ore., the mayor has declared an "emergency" over gun violence, as the city struggles to reel in an annual murder count that shot up to 88 in 2021, from 36 in 2019. Even some smaller cities, such as Little Rock, Ark., are in danger of eclipsing last year's murder numbers.
The Nature of Gun Violence Has Changed
But it's not just that the numbers remain high. The nature of the gun violence itself has changed, according to those who watch these crimes closely.
"The '90s was more gang-oriented, there was much more organized, sort of targeted shootings . . . Today, it's petty offenses, petty conflicts, reckless shootings." ~King County Prosecutor Elyne Vaught
Vaught says you can see the "rise in reckless-type shootings" in the county statistics, where the number of shots fired has more than doubled, compared to the same period in 2019, and with more shots fired per victim.
According to Kaste's article, police around the country have noticed this trend. A new report from the Major Cities Chiefs Association points to "incidents of individuals indiscriminately shooting into large crowds while discharging massive amounts of ammunition," such as the April mass shooting in downtown Sacramento.
The chiefs point to the availability of extended ammunition magazines, as well as the growing popularity of "auto sear" switches, small after-market devices that turn semi-automatic Glock pistols into illegal automatics, capable of spraying bullets. (Similar attachments are also exist for AR-15-style rifles, but police worry more about handguns, which are used far more often in crimes.)
Gun Violence Often Starts Online
Temple University criminologist Jason Gravel, who studies how young people acquire and use guns, says the role of social media may be the biggest change of the last few recent years.
"It might look like some random shooting on the street, but if that was preceded by a bunch of verbal threats online or in social media, you don't see the first part of the conflict, you just see the end result," ~ Jason Gravel, Temple University Criminologist.
More Guns Are Available
There may have been more guns around for kids to find. Firearms dealers reported record sales during the pandemic, and a recent article in the Annals of Internal Medicine estimates that 2.9% of U.S. adults became new gun owners. By extension, the authors estimate 5 million children were "newly exposed" to firearms in their households.
It's hard not to view these incidents as yet another result of America's polarized gun debate. Many Americans hold their right to bear arms, enshrined in the US Constitution, as sacrosanct. But critics of the Second Amendment say that right threatens another: the right to life.
Please contact my office if you, a friend or family member are charged with a Firearm Offense or any other crime. Hiring an effective and competent defense attorney is the first and best step toward justice.