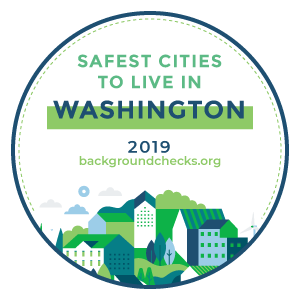 A recent report from www.backgrounchecks.org  ranks Washington cities by crime rates. In short, although Washington cities are lower than average violent crime, there's an increase in property crime.
"In the state's larger cities such as Seattle and Spokane, you're more likely to have your car broken into than become the victim of an assault. Still, despite Washington's property crime issue, there are plenty of communities in the state with an all-around high level of safety."  ~backgroundchecks.org
According to the report, the safest city in Washington is Snoqualmie. Recording just two violent crimes in 2017, Snoqualmie logged a very low 0.15 violent crimes per 1,000 residents, along with a property crime rate half of the U.S. national average.
Backgroundchecks.org uses the most recent FBI crime statistics to create state rankings. There were initially 7,430 cities in the data set. After filtering out the cities with populations of less than 10,000, 2,929 cities remained. The website then calculated violent crime rates and property crime rates by dividing the crime numbers by the population to get rates per 1,000. They also calculated the ratio of law enforcement workers to per 1,000. These were weighted with -50% for the violent crime rate, -25% for the property crime rate, and +25% for the law enforcement rate. The resulting metric gave us a the safety index score. In short, the higher this number more safe the city is.
Not every person arrested is guilty of a crime.  Other studies show that densely populated cities also have higher incidence of overall arrests. Therefore, please contact my office if you, a friend or family member are charged with a crime. Hiring an effective and competent defense attorney is the first and best step toward justice.