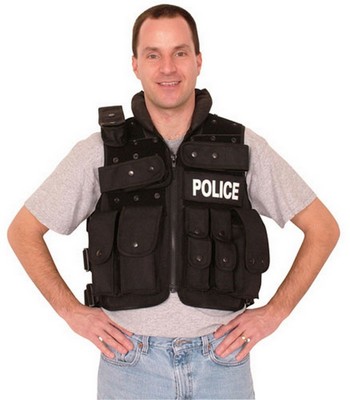 In State v. Connors, the WA Court of Appeals held that a police vest is a uniform.
BACKGROUND FACTS
Mr. Connors was driving a stolen car when he failed to respond to a signal to stop issued from a police vehicle. Instead of stopping, Mr. Connors sped away to an apartment complex. He then abandoned the stolen car and fled on foot until he was apprehended by the pursuing officer. The officer's attire at the time of the incident consisted of a black external vest which fit over normal clothes, a Spokane Police patch on the front and reflective letters across the back that says "Police."
Mr. Connors was charged with, and convicted of, attempting to elude a police vehicle and possession of a stolen motor vehicle. He appealed his eluding conviction.
COURT'S ANALYSIS & CONCLUSIONS
"A conviction for attempting to elude a police vehicle requires the State to prove, beyond a reasonable doubt, that the defendant was signaled to stop by a uniformed police officer," said the Court of Appeals.
The Court further reasoned that when interpreting statutory text, the goal is to discern legislative intent. When a statute does not define a term, courts will give the term " 'its plain and ordinary meaning unless a contrary legislative intent is indicated. "Generally, courts derive the plain meaning from context as well as related statutes," said the Court. "But a standard English dictionary may also be employed to determine the plain meaning of an undefined term."
Here, the Court found that the clothing described during Mr. Connors's trial readily meets the ordinary definition of a "uniform." The vest worn by the officer was specific to the Spokane Police Department. It served to notify the public that the officer was an official member of the police department. The fact that the officer wore "normal clothes" under his police vest does not mean he was not wearing a uniform. "Some uniforms are comprehensive from head to toe," said the Court. "Others are not. The eluding statute makes no preference."
"So long as an officer deploying the signal to stop is attired in a distinctive garment that clearly identifies him as a member of law enforcement, the statutory requirement of a "uniform" is met."
With that, the Court of Appeals affirmed the conviction.
Please contact my office if you, a friend or family member are charged with a crime and it's questionable whether the law enforcement officer was appropriately and/or distinctly uniformed during the stop and arrest. Hiring competent defense counsel is the first and best step toward achieving justice.