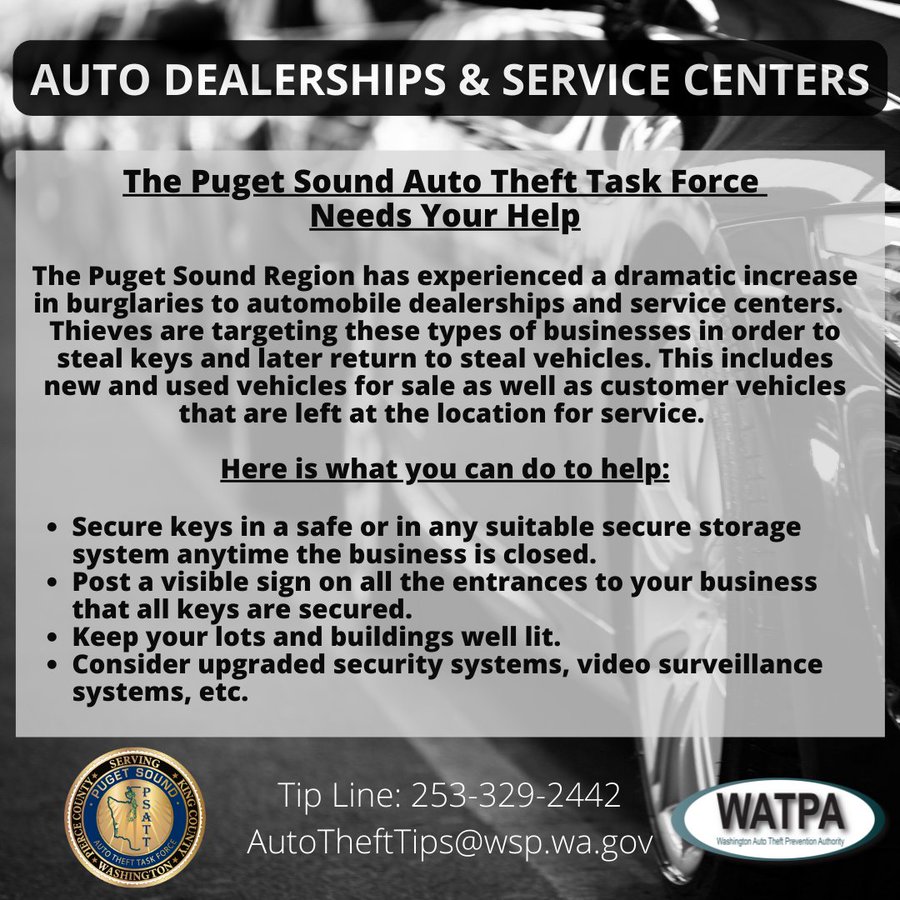 Apparently, auto dealers and repair shops are increasingly becoming a target of burglars around the Puget Sound region. Car thieves have become more brazen and aggressive in their attempts to profit from auto dealerships, whether stealing whole cars or stripping them of valuable parts.
Journalist Nicole Jennings reports that Western Washington burglars are reportedly breaking into dealerships and mechanics' shops, often by ramming their cars into service entrances. Also, journalist Sebastian Robertson reported that a car dealership in Fife has suffered multiple break-ins. In one case, suspects made off with several sets of keys, only to return days later.
The object of the burglary usually appears to be the keys to the cars on site — either the dealership's own cars or the keys that people drop off when having their cars worked on. The criminals steal the cars at the time of the burglary, or return later for them. This recently happened at Nissan of Olympia, when burglars rammed a car into the service entrance to get in.
The Puget Sound Auto Theft Task Force, made up of police officers from different agencies, is putting a special emphasis toward catching the burglars. PSATT is dedicated to investigating prolific auto theft offenders through multi-agency cooperation. The task force is recommending that auto dealers and repair shops put any keys dropped off after hours in a safe or similar secure storage system, so they could not be easily accessed by trespassers. The task force also suggests upgrading video systems and keeping parking lots well-lit.
Here are the Top 10 Burglary Statistics is 2022 according to Bankrate.com:
Over 1 million burglaries are committed each year in the US, according to the FBI.
Most recently, 1.1 million burglaries took place in 2019, down 9.5% since the previous year.
One burglary happens every 25.7 seconds, so approximately 3,300 per day.
The average value of property taken during burglaries is about $2,600, making the total cost of burglaries in 2019 about $2.9 billion.
Burglars are drawn to homes that do not have home security systems. Homes that don't have a security system are 300% more likely to be burglarized (Alarms.org).
Unfortunately, less than 30% of homes have an effective security system installed (Security.org).
27% of the time, a person is home while the burglary occurs; 26% of those people home are harmed.
Someone was injured in 7.2% of all burglaries committed.
In 85% of burglaries, the crime is committed by amateurs, often done by someone who is desperate. It is assumed these amateurs are more unpredictable and dangerous than professional thieves.
Despite the grim statistics burglaries have declined by 49% in the last 20 years, according to FBI data.
Please contact my office if you, a friend or family member are charged with a Burglary, Vehicle Theft or any other crime. Hiring an effective and competent defense attorney is the first and best step toward justice.