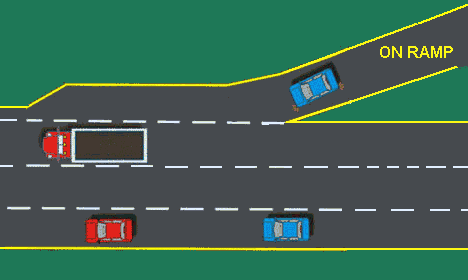 In State v. Brooks, the WA Court of Appeals held that the neutral area separating a highway on-ramp from an adjacent lane of travel does not meet the definition of "roadway." A driver who crosses this area is properly stopped for a violation of Driving with Wheels Off Roadway under RCW 46.61.670.
BACKGROUND FACTS
While merging onto westbound U.S. Route 97 from U.S. Route 2 in Chelan County, Jena Brooks's car crossed over a portion of the highway designated as a "neutral area." A neutral area is a paved triangular space separating an entrance or exit ramp from an adjacent lane of highway. The neutral area between Route 97 and its merger with westbound Route 2 is marked on each side by thick white channelizing lines. The drawing below is a depiction of a neutral area similar to the one crossed by Ms. Brooks: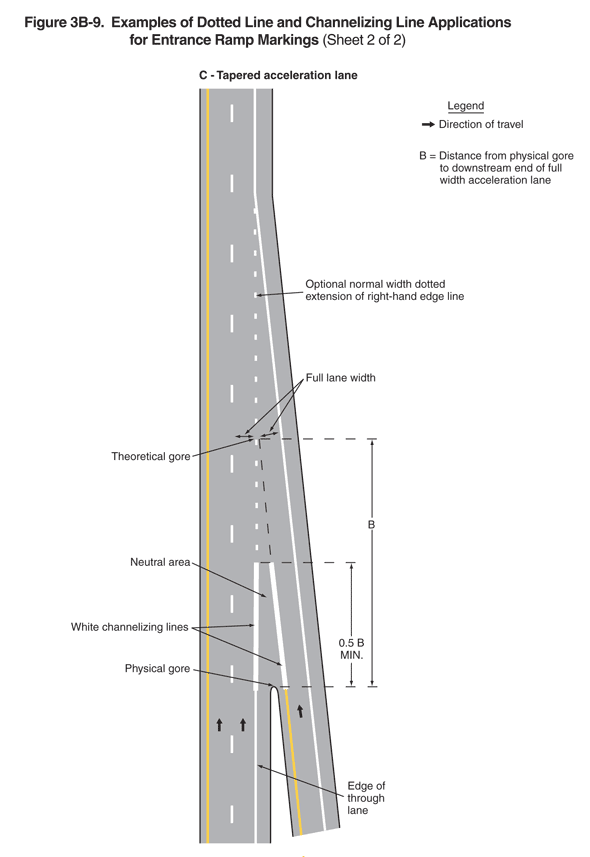 A Washington State Patrol trooper observed Ms. Brooks's vehicular activity and performed a traffic stop. Ms. Brooks was ultimately arrested for driving on a suspended license and other misdemeanor offenses.
During proceedings in district court, Ms. Brooks filed a motion to suppress, arguing her vehicle had been stopped without probable cause. The motion was denied. Pertinent to this appeal, the district court ruled Ms. Brooks's merger over the highway's neutral area constituted "driving with wheels off roadway," in violation of RCW 46.61.670. 2
Ms. Brooks was subsequently convicted of several misdemeanor offenses after a jury trial. Later, she successfully appealed the suppression ruling to the superior court. It found Washington's definition of a roadway ambiguous in the context of a highway's neutral area. The superior court then invoked the rule of lenity and determined Ms. Brooks should not have been stopped for driving with wheels off the roadway in violation of RCW 46.61.670.
ISSUES
The Court of Appeals addressed (1) whether the term roadway is ambiguous in the current context, and (2) if the term is ambiguous, whether the rule of lenity is an available tool of statutory construction that might benefit a defendant such as Ms. Brooks.
ANALYSIS & CONCLUSIONS
"A highway's neutral area is not a vehicle lane. It is too short to facilitate meaningful travel. And its triangular shape cannot consistently accommodate the size of a vehicle. Rather than being designed for vehicular travel, it is apparent the neutral area is designed as a buffer zone. It keeps vehicles separate so as to facilitate speed adjustment and, in the context of a highway on-ramp, safe vehicle merging."
The Court further reasoned that National standards set by the Manual on Uniform Traffic Control Devices for Streets and Highways (MUTCD) confirmed its observations about the apparent design purpose of a highway's neutral area. In short, the Court reasoned the MUTCD refers to the neutral area as an "island." As such, it is an area intended for vehicle "separation."
"Although a neutral area may be designated either by a wide or double solid white channelizing line, the two options carry no substantive significance" said the Court of Appeals. "Like a double white line, a solid white line can serve as an indicator that crossing is prohibited. The whole point of a neutral area is to exclude vehicles and promote orderly and efficient traffic flow," said the Court of Appeals.
The Court concluded that Ms. Brooks failed to maintain her vehicle wheels on an area of the highway meeting the statutory definition of a roadway. A vehicle stop was therefore permitted under Washington's wheels off roadway statute. Consequently, the superior court's order on appeal from the district court is reversed.
Surprisingly, there's quite a bit of caselaw on what constitutes "Driving With Wheels Off the Roadway." Please contact my office if you, a friend or family member face criminal charges following after a police officer pullover where this citation led to arrest. It's quite possible to suppress the fruits of a search based on unlawful stop, search and/or seizure.