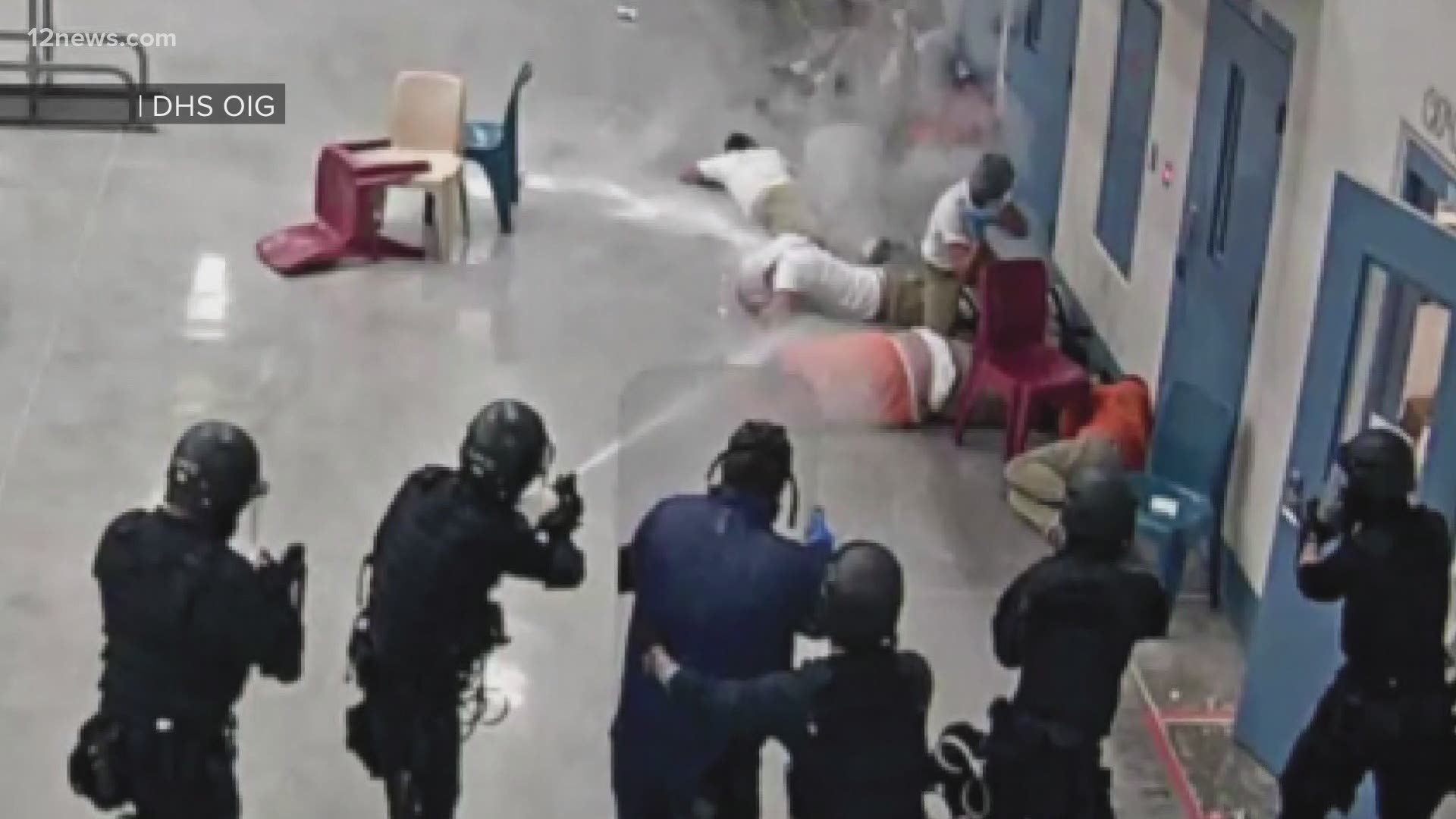 A new report documents the use of pepper spray and physical force used against immigrants detained at the Northwest ICE Processing Center in Tacoma. These acts of violence involved detainees engaged in peaceful protest and those with a history of mental illness.
In 2020, for example, a guard reportedly placed his knee on a detainee's neck, prompting others to chant "Black Lives Matter" and "get your knee off his neck." The man from Sudan told Tacoma police that guards had twisted back his arms and shoulders to the point where he lost feeling in them. He was eventually placed on suicide watch and taken to a psychiatric facility. He said he would rather die than continue to be held at the detention facility.
One year later, the man reportedly threatened suicide, tying his bedsheets together and attaching them to his upper bunk.
"It became clear that there really were patterns of escalating cycles of uses of force against some specific individuals about whom we were really concerned. And one of those categories was folks facing mental illness." ~Angelina Godoy, Director, UW Center for Human Rights
Godoy said detainees cannot directly call 911 from inside the detention facility and have almost no way of responding to abuse.
Altogether, the report details 70 incidents from 2015 to 2023 where force was used at the ICE facility in Tacoma. Over the last seven years, that translates to, on average, one incident of force at the facility each month, researchers said.
Researchers primarily relied on government documents, but also on Tacoma police reports, court records, and reports from the activist group La Resistencia to document the uses of force. Even so, researchers point out the records they relied on are incomplete because the agency often fails to either document the incident, or comply with public records laws. The UW Center for Human Rights has pursued litigation against the agency to obtain documents in 28 different cases.
In another incident in 2018, involving a peaceful protest, more than 100 detainees at the ICE detention center in Tacoma went on a hunger strike.
Jesus Chavez testified in court that during the strike he was punched with a closed fist, and that other hunger strikers were choked and thrown against walls. Chavez also said officials refused to take him to the hospital, even though doctors recommended it, but simply gave him painkillers.
Detainees at the ICE facility in Tacoma are there because they are waiting for the outcomes of their immigration proceedings — not because they've been charged with a crime.
Efforts to more closely monitor the facility, or shut it down altogether, have been challenged in court. A new law authorizes the state Department of Health to inspect the ICE facility in Tacoma on a regular basis, but GEO Group — the private prison company that runs the facility — promptly sued the state over the legislation.
Godoy pointed to a previous report by the UW Center for Human Rights that showed the ICE detention center in Tacoma keeps detainees in solitary confinement longer than any other ICE facility in the country.
When someone is charged with a crime, they may be incarcerated regardless of their innocence.  If they cannot afford the bond, they have to sit in jail until their case is resolved. Unfortunately, it is irrelevant whether or not the person actually committed the crime at this point. They will languish in jail for at least as long as it takes for their case to be resolved.  This can take months, and in some cases over a year.
Please review my legal guide Making Bail and contact my office if you, a friend or family member are incarcerated pending charges. Hiring an effective and competent defense attorney is the first and best step toward justice.