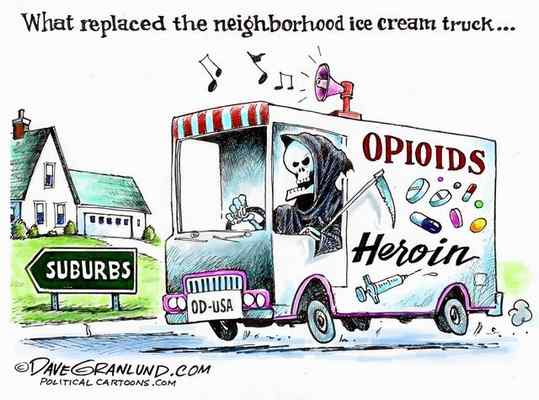 Timely article by Diana Hefley of the Everett Herald reports that lawyers for Everett are expected in federal court Monday to defend the merits of a lawsuit filed earlier this year against the makers of the pain medication OxyContin.
Purdue Pharma, the drug's maker, is asking U.S. District CourtJudge Ricardo Martinez to toss the lawsuit before it ever goes to trial.
According to Hefley's article, the City of Everett is blaming Purdue for ignoring the diversion of its product, a prescription opioid, to the black market. The lawsuit alleges the multibillion-dollar pharmaceutical company's irresponsible business practices helped set in motion what some officials now call an opioid epidemic in Snohomish County, marked by a spike in overdoses, deaths and crime.
The lawsuit claims Purdue knew OxyContin was being funneled to "pill mills" and drug traffickers, including some who set up shop in Everett. Heroin use in Snohomish County and nationwide has skyrocketed in recent years. Addicts often cite prescription painkillers as the source of their introduction to opioids.
Hefly reports that Everett's lawsuit doesn't name a dollar amount. Instead, it claims the city has spent and will need to continue to spend significant tax dollars addressing addiction in the community.
Purdue filed a motion to dismiss the case.The company's lawyers wrote that the city's allegations are based largely on a false theory that Purdue did nothing to alert law enforcement to the illegal diversion.
Two criminal prosecutions into trafficking rings show that "law enforcement was, at the time, already aware of, and investigating, the criminal conduct of physicians, pharmacies and gang members at issue," Purdue's attorney, Thomas Adams, wrote in court papers. Apparently, the city lacks any standing to hold Purdue responsible for Everett's costs associated with responding to addiction and crime, the defendants argue.
"While we are deeply troubled by the abuse and misuse of our medication, this lawsuit paints a completely flawed and inaccurate portrayal of events that led to the crisis in Everett," the company wrote on its website.
Hefley reports that Purdue was sued a decade ago in Washington. Several states alleged the company had engaged in deceptive marketing practices. Purdue agreed to pay the states $19.5 million as part of a consent judgment. Washington received more than $700,000. As part of the judgment, Purdue agreed to implement diversion detection programs.
However, the City of Everett claims Purdue ignored its obligations. The city pointed to the criminal prosecution of Jevon Lawson, a California transplant and aspiring rap artist, living in Snohomish County, who peddled large amounts of OxyContin. The Daily Herald wrote about Lawson's indictment in 2011. Everett has defended its lawsuit in a 31-page response.
Its lawyers cited multiple cases — one involving a gun maker and other companies that sell toxic chemicals — to support the contention that Everett has a legal right to hold the manufacturer of a product responsible for harm done to the community.
Everett isn't the only city taking on the pharmaceutical giant. Last week, the City of Tacoma filed a federal lawsuit against Purdue, along with co-defendant pharmaceutical companies Endo and Janssen. The lawsuit claims the opioid manufacturers made misleading statements about the risks of their products to doctors and patients for the past 20 years.
My opinion? A large amount of my clients charged with DUI, drug crimes, assaults, property crimes and identity theft are, in fact, suffering from drug addictions to opiods. Recent reports and crime data also reflects an uptick in opiod-related crimes. Although we must take accountability for our actions, it violates justice to assume that drug addicts are totally responsible for their actions when prescription "medicine" drives them to abuse drugs and exhibit criminal behavior. Good luck to the City of Everett. And excellent reporting from reporter Diana Hefley, by the way.
Please contact my office if you, a friend or family member face criminal allegations that you allegedly committed while under the influence of prescribed opioids. the defense of Diminished Capacity may apply. Under this defense, diminished capacity means that although the accused was not insane, due to emotional distress, physical condition, drug addiction or other factors he/she could not fully comprehend the nature of the criminal act he/she is accused of committing.