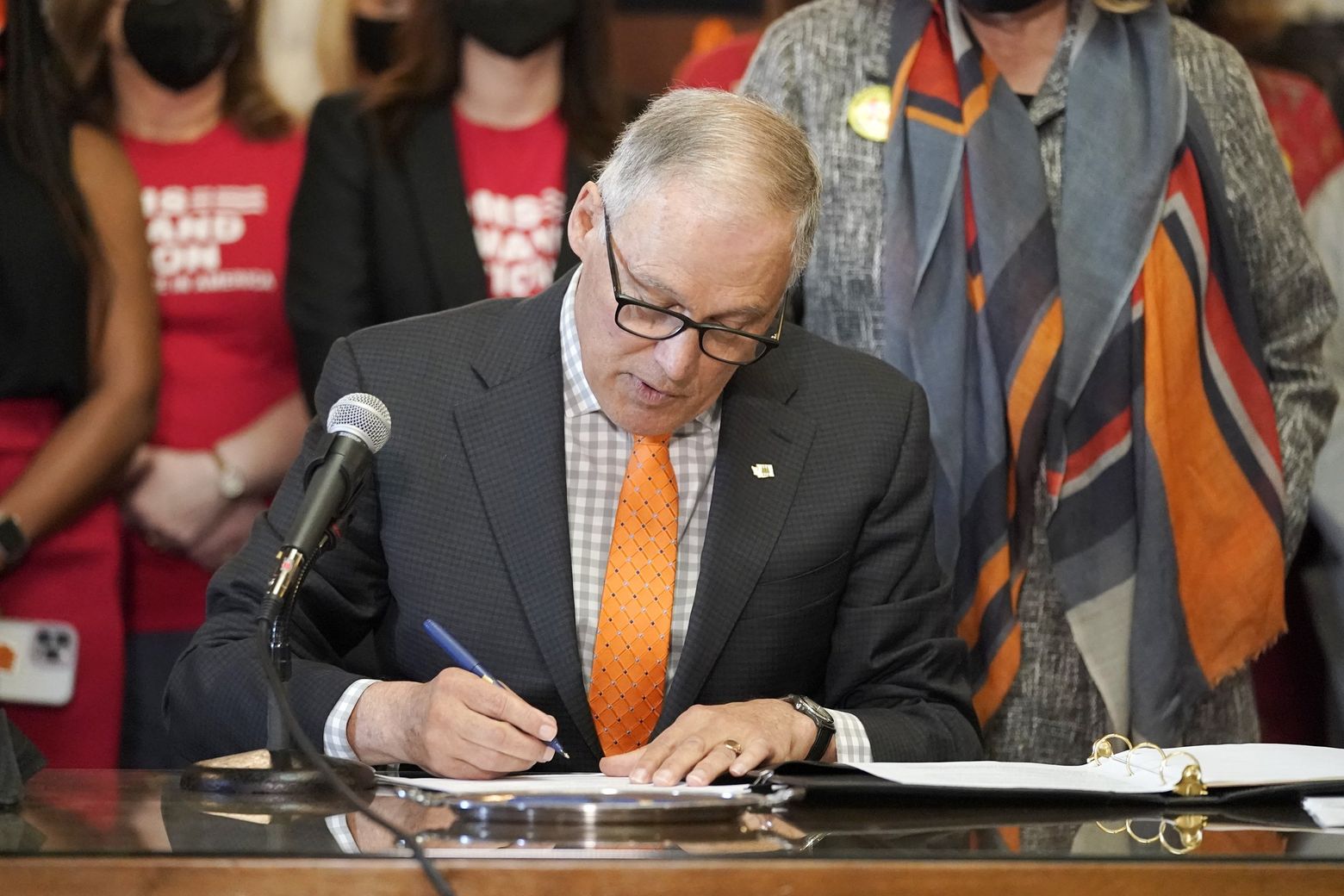 Governor Jay Inslee signed three bills into law aimed at preventing gun violence in Washington state. One of the bills signed into law bans assault-style weapons. another requires safety training and a 10-day waiting period before purchasing a firearm. The third is legislation to strengthen accountability of firearm manufacturers and retailers.
"These are three victories, not one, and it is clear why we need to take this action . . . These weapons of war of assault weapons have no reason other than mass murder. Their only purpose is to kill humans as rapidly as possible in large numbers." ~Gov. Jay Inslee
HOUSE BILL 1240
House Bill 1240 prohibits the manufacture, importation, distribution, sale, or offer for sale of any assault weapon" in Washington state. The semi-automatic rifle ban would cover more than 50 gun models, including AR-15s, AK-47s and similar-style rifles, which fire one bullet per trigger pull and automatically reload for a subsequent shot, The Associated Press reported. Some exemptions are included for sales to law enforcement agencies and the military in Washington.
"Gun violence rips loved ones from their families, devastates our communities, and traumatizes our children again and again," said Rep. Strom Peterson (D-Edmonds) who sponsored HB 1240. "Students everywhere have been speaking up, demanding we do something to protect them. We've stepped up to answer them. With the Governor's signature today, we're sending a clear message to our kids: we hear you and we are acting to keep you safe."
The law went into effect immediately after it was signed by Inslee on Tuesday. Gun shop owners now have 90 days to sell their inventory. When the bill passed the state House in March, Inslee said he has believed in it since 1994 when, as a member of the U.S. Congress, he voted to make it a federal law.
HOUSE BILL 1143
House Bill 1143 requires gun buyers to show they've taken firearm safety training before purchasing a firearm. The new law also requires a 10-day waiting period for all gun purchases — something that's already mandatory in Washington when buying a semi-automatic rifle. HB 1143 will go into effect on January 1, 2024.
"Gun violence is now the leading cause of death for children in our country," said Rep. Liz Berry (D-Seattle) who sponsored HB 1143. "As a mom of two little ones and as a person who has lost someone who I love to gun violence, this is devastating to me. It's simple: these bills will save lives."
HOUSE BILL 5078
Inslee also signed Senate Bill 5078 into law Tuesday. The bill allows people whose family members die from gun violence to sue if a manufacturer or seller "is irresponsible in how they handle, store or sell those weapons."
Under Washington's consumer-protection act, the attorney general could file a lawsuit against manufacturers or sellers for negligently allowing their guns to be sold to minors, or to people buying guns legally in order to sell them to someone who can't lawfully have them. SB 5078 takes effect 90 days after the adjournment of the legislative session.
THE MOMENTUM, POLITICAL WILL & OPPOSITION
More than 800 people die from gun violence in Washington state each year, according to the governor's office. Nine states including California, New York and Massachusetts, along with the District of Columbia, have already passed similar bans. the laws have been upheld as constitutional by the courts.
The ban on some semi-automatic weapon sales drew a quick legal challenge from the Second Amendment Foundation and the Firearms Policy Coalition. The groups sued in U.S. District Court, saying the law violates the constitutional right to keep and bear arms.
Please contact my office if you, a friend or family member are charged with a Firearms Offense or any other crime. Hiring an effective and competent defense attorney is the first and best step toward justice.