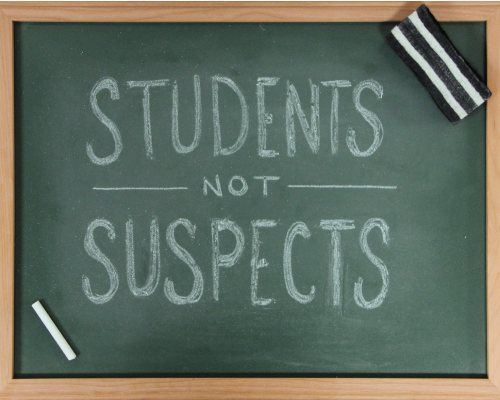 Interesting article by Claudia Rowe of the Seattle Times describes a report from the American Civil Liberties Union (ACLU) saying says that police officers patrolling school hallways brings significant costs to the learning environment and finances of our schools.
"We were surprised by the degree to which officers have almost unfettered ability to enforce in school discipline," said Vanessa Hernandez, youth policy director at the ACLU who wrote the "Students Not Suspects" report. "That's a pretty dangerous road to go down, to have student discipline in an educational environment handed to a law enforcement agent, and it really sends a troubling message to students about how we perceive them." The advocacy organization examined data from the 2013-14 through 2015-16 school years in more than 100 districts.
Thirty years ago, few schools used police to respond to misbehavior. But in recent decades the number of officers patrolling the halls has ballooned — from fewer than 100 nationally in the late 1980s, to an estimated 17,000 today. Yet no state agency systematically tracks police in schools, or the impact on students. Most commonly, officers are contract employees who report to their police departments, not district administrators.
In Washington, Hernandez added, at least 3,400 kids were either arrested on campus or referred to law enforcement for prosecution during in the 2013-14 school year, which is the most recent data available.
In a time when state lawmakers are wrestling with a multibillion dollar hole in funding for education, schools are spending millions on police officers, the report found.
Seventeen districts pay the entire cost of their school police, covering salaries, benefits and even, in two cases, leasing patrol cars. On average, schools contribute about $62,000 annually for each full-time officer, and up to $125,000 at the high end.
Other approaches, like restorative justice and trauma-informed teaching, have been shown to reduce disciplinary incidents by addressing the underlying causes of misbehavior, and the ACLU suggests that money for police might be better spent on school psychologists, social workers or teaching assistants.
Yet momentum has moved in the opposite direction. Nationally, 24 percent of elementary schools and 42 percent of middle- and high schools routinely hire police officers, according to the report.
But not all schools have police officers. In high-poverty schools — whether urban or rural — police are a much more routine presence. In small-town Walla Walla, for example, the alternative school where 80 percent of kids are low-income, has an officer. But the regular comprehensive high school, where only 45 percent of students are low-income, does not. Even the tiny Liberty district, with about 450 students, has a police officer on staff, the ACLU found.
Please contact my office if you, a friend or family member are charged with a crime. Hiring an effective and competent defense attorney is the first and best step toward justice.