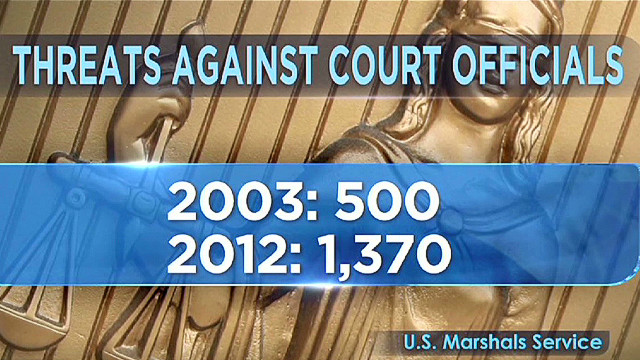 According to an article for Washington Post, threats against the nation's judges and prosecutors have sharply increased, prompting hundreds to get 24-hour protection from armed U.S. marshals.  Many federal judges are altering their routes to work, installing security systems at home, shielding their addresses by paying bills at the courthouse or refraining from registering to vote.  Some even pack weapons on the bench.
Much of the concern was fueled by the slaying of U.S. District Judge Joan H. Lefkow's husband and mother in their Chicago home in 2005 and a rampage 11 days later by an Atlanta rape suspect, who killed a judge, the court stenographer and a deputy. Last year, several pipe bombs exploded outside the federal courthouse in San Diego, and a drug defendant wielding a razor blade briefly choked a federal prosecutor during sentencing in Brooklyn, N.Y. In March, a homicide suspect attacked a judge in a California courtroom and was shot to death by police.
Although attacks have not recently increased, threats have.  Law enforcement is taking action to prevent these threats from happening.  The threats are emerging in cases large and small, on the Internet, by telephone, in letters and in person.
Worried federal officials blame disgruntled defendants whose anger is fueled by the Internet; terrorism and gang cases that bring more violent offenders into federal court; frustration at the economic crisis; and the rise of the "sovereign citizen" movement — a loose collection of tax protesters, white supremacists and others who don't respect federal authority.
My opinion?   On a nation-wide level, people are scared.  They fear losing their jobs in a tough economy.  They fear losing their socio-economic standing in a nation undergoing dramatic changes (remember, gun sales have increased since Obama took office).  When fear increases, people tend to blame one particular individual or group as the reason for their problems.   Unfortunately, in the criminal justice system, judges and prosecutors are often the very individuals who get blamed.
Don't blame judges and prosecutors.  They're just doing their jobs.
The solution?  Defendants should seek legal representation from attorneys who (1) maintain good relations with judges/prosecutors, and (2) file Affidavits of Prejudice against judges who might hold biases towards the case.  Under Washington statute, any party may establish prejudice by filing a motion, supported by affidavit, that the judge before whom the action is pending is prejudiced to the degree that the party cannot, or believes he cannot, have a fair and impartial trial before such judge.  Once the Affidavit of Prejudice is entered, that particular judge cannot make any decisions on your case from that point forward.
I file Affidavits of Prejudice on a consistent basis.  Indeed, I would be ineffective if I didn't!  I took an oath to bring justice to my clients using every tool and technique at our disposal.  Your attorney should do the same.  If not – or if you don't know – then talk with them.  How well does your attorney know the judges and prosecutors they work with?  How willing are they to file Affidavits of Prejudice?
Go to www.avvo.com to research attorneys who you may consider hiring.  This free online resource will help streamline your decision-making process.  Good hunting!
Please contact my office if you, a friend or family member are charged with a crime. Hiring an effective and competent defense attorney is the first and best step toward justice.